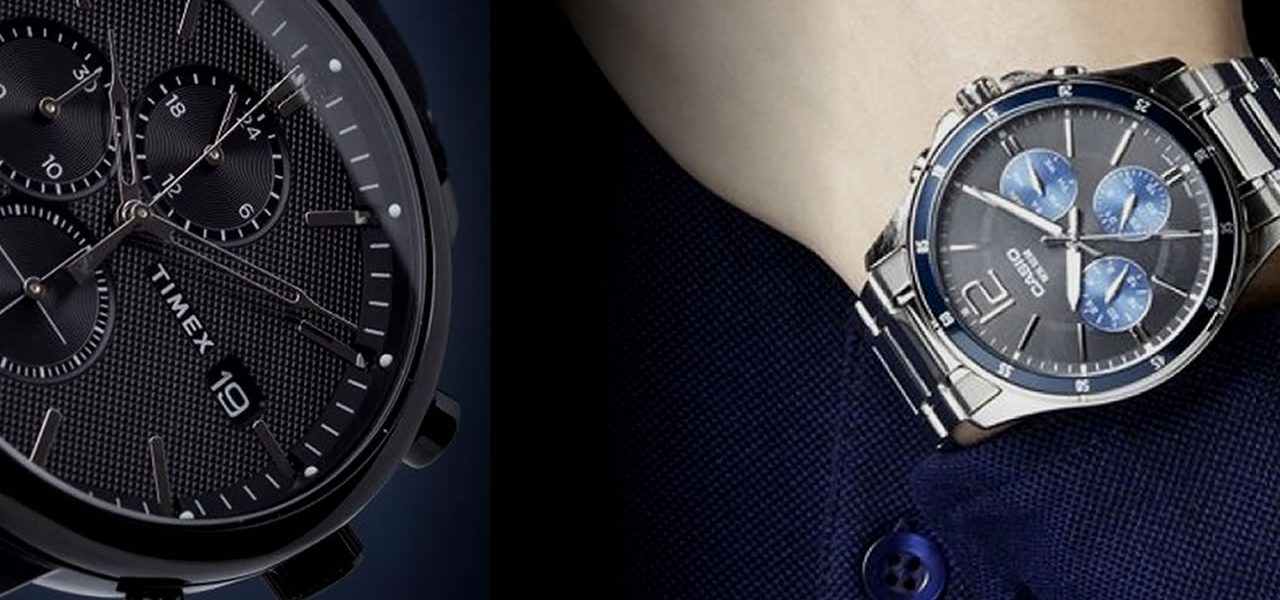 We all know it's more than 'time' for us to talk about watches. If it were only about functionality, then cellphones (that are basically a part of our bodies) would be enough for most of us.
Watches though, from simple quartz ones to handmade mechanical art pieces, are always one of the most important accessories for men.
There is so much to talk about when it comes to watches; so one article can only be a title or just a beginning to this endless topic. But, I think it would be a nice beginning to talk about some small details and how these small details make a difference on basic models; then we can continue with some different types of watches.
First of all, featuring a watch as a 'status symbol', 'wealth indicator', 'jewelry of men', or 'object of desire' is an issue. I believe it's too much to expect a watch, or any other purchased thing, to create 'the man' we dream to be. I am the same guy who just prefers to wear his plastic colorful Swatch or leather strapped Maurice Lacroix from dad according to his mood or the atmosphere. It's a fact that a watch is more than a timekeeper, and as everything we choose to own, it shows the owner's taste.
Choosing a watch is a very personal process. Some people are brand addicted and others may have a big frame obsession. Some can never use metallic straps, and others can't fathom plastic ones. There are even people who can't stand to see digital watches or watches with rectangular/square cases. You need to decide what kind of watch person YOU are.
When it comes to watch face styles, there are many different options. Numbers, Roman numerals, and bars are the most commonly used for showing hours on analog watches. Some designs may have a totally empty face without any indicators, while some have different signs instead of numbers. Roman numerals look elegant and classy, while numbers and bars are versatile. Bars can create both a sporty and formal watch image depending on the material used and design of the other main parts. Bars on a silver color case with a textile strap and bars on a golden case with a crocodile leather strap can look totally different. Thin, minimalist watches with Roman Numerals always seem delicate to me; I have always thought they are the most sophisticated watches ever made.
Becoming overwhelmed with choices is inevitable. It is a matter of taste AND budget. There are many functions to choose from: calendar, split second chronograph, moon phase indicator, countdown timer, minute repeater…. They seem to be endless. It is a very personal choice, no matter how you need or use them. I like to see different functions on a watch because they make me feel like I have a miniature machine on my wrist. Some add a sporty, dynamic touch on a watch, while some show the complexity of the machine. Mechanical watches that have superior craftsmanship should be considered as art including design, precision engineering, and complexity. Here, the complexity of these small machines refer to hours of handwork.
More complex designs usually end up with large cases, thus size is something to be considered. Extremely large cases can also be found without any special function or complex mechanism just because large watches are trendy. I personally don't think that kind of weight on a wrist is classy. Who would like to have a XL screen on his wrist? Not for a gentleman.
A plain model with a basic dial, round case, and leather strap can be the perfect choice for any time and atmosphere. No matter what silver or golden frame they have, these models are versatile; they can be formal, casual, and even sporty according to your outfit during your daily routine. Plus, you have more options if you get bored and want to change the color or the material of the strap one day.
Straps or watchbands are another important characteristic of watches. There are mostly leather, metal, or rubberized materials. Straps are replaceable and can be used to diversify the same watch from a sporty line to classy. Watches that have simple face designs are easier to diversify; especially the ones with white dials.